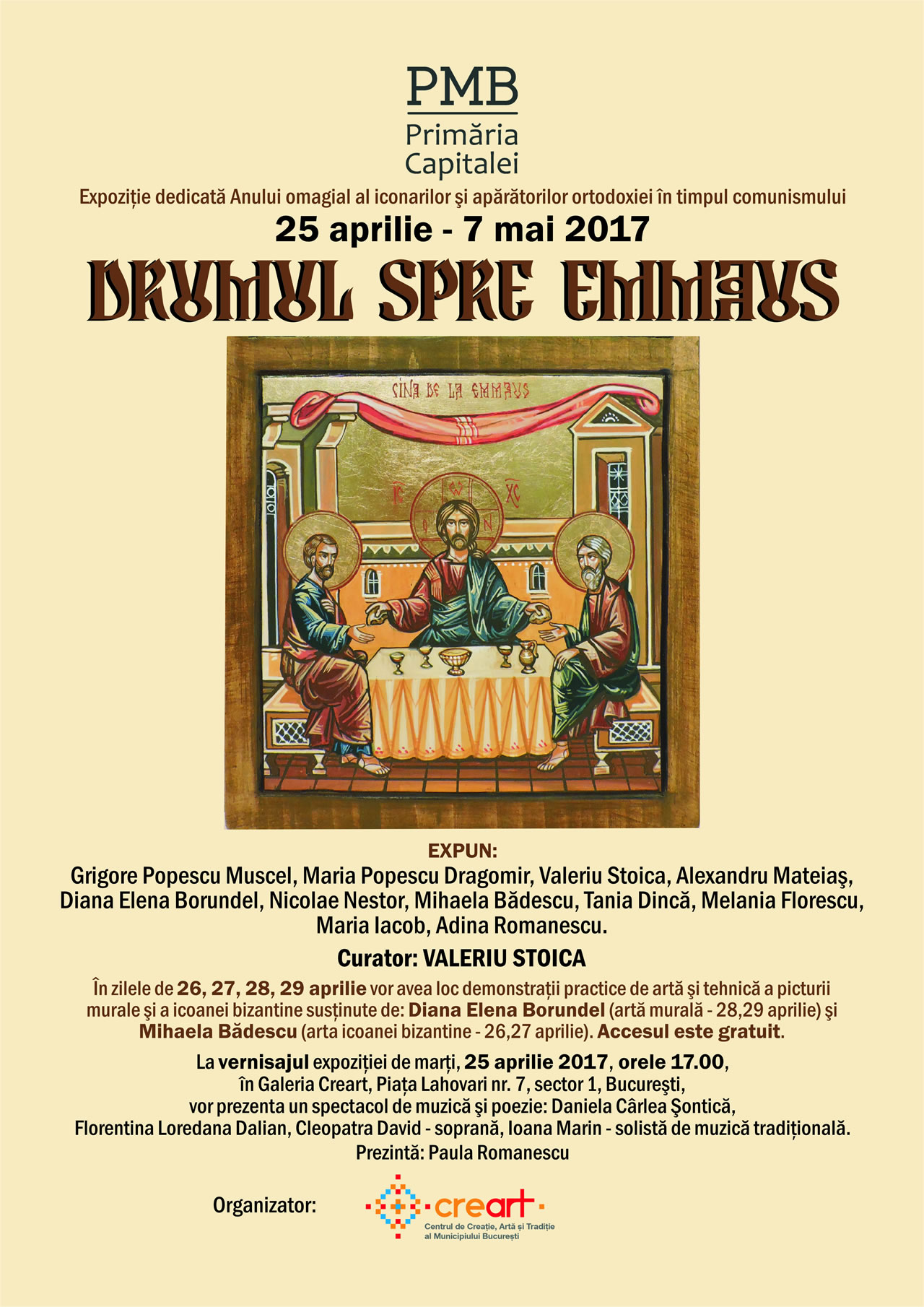 The City Hall of Bucharest, through the Creart – the Center for Creation, Art and Tradition of the Municipality of Bucharest, organizes Tuesday, April 25, 2017, the opening of the exhibition "DRUMUL PENTRU EMMAUS", in the Creator Gallery in Alexandru Lahovari Square, no. 7.
The exhibition brings together original works by icons and church painters, Christian art personages such as: Grigore Popescu Muscel, Maria Popescu Dragomir, Diana Elena Borundel, Alexandru Mateias, Nicolae Nestor, Valeriu Stoica, Mihaela Badescu, Tania Dinca, Melania Florescu, Maria Iacob Or Adina Romanescu.
The curator of the exhibition "DRUMUL PENTRU EMMAUS" is Mr. Valeriu Stoica, the author of the first exhibition of icons made after 1989.
The opening of the exhibition will take place on April 25, 2017 at 17:00, complemented by a music and poetry show with Daniela Cârlea Şontică, Florentina Loredana Dalian, Cleopatra David – soprano, Ioana Marin – traditional musician, Presented by Paula Romanescu.
The artistic manifestation will take place in the context of the proclamation of 2017 in the Romanian Patriarchate as "The homage year of holy icons, icons and church painters, and Justinian Patriarch's anniversary anniversary and Orthodox defenders during Communism."
The icon exhibition "DRUMUL PENTRU EMMAUS", a cultural project dedicated to the homage year of the icons and defenders of Orthodoxy during communism, contains a brief presentation of the role and importance of holy icons and a part with a pronounced practical character, materialized in art and technical demonstrations The Byzantine icon and the murals, supported by Mihaela Badescu (the Byzantine icon art on April 26 and 27) and by Diana Elena Borundel (mural art on April 28 and 29), both activities taking place at the headquarters .
The exhibition can be visited at the headquarters of Alexandru Lahovari Square, no. 7, between April 25 and May 7, 2017, from Monday to Sunday, between 10:00 and 18:00.
The entry is free.