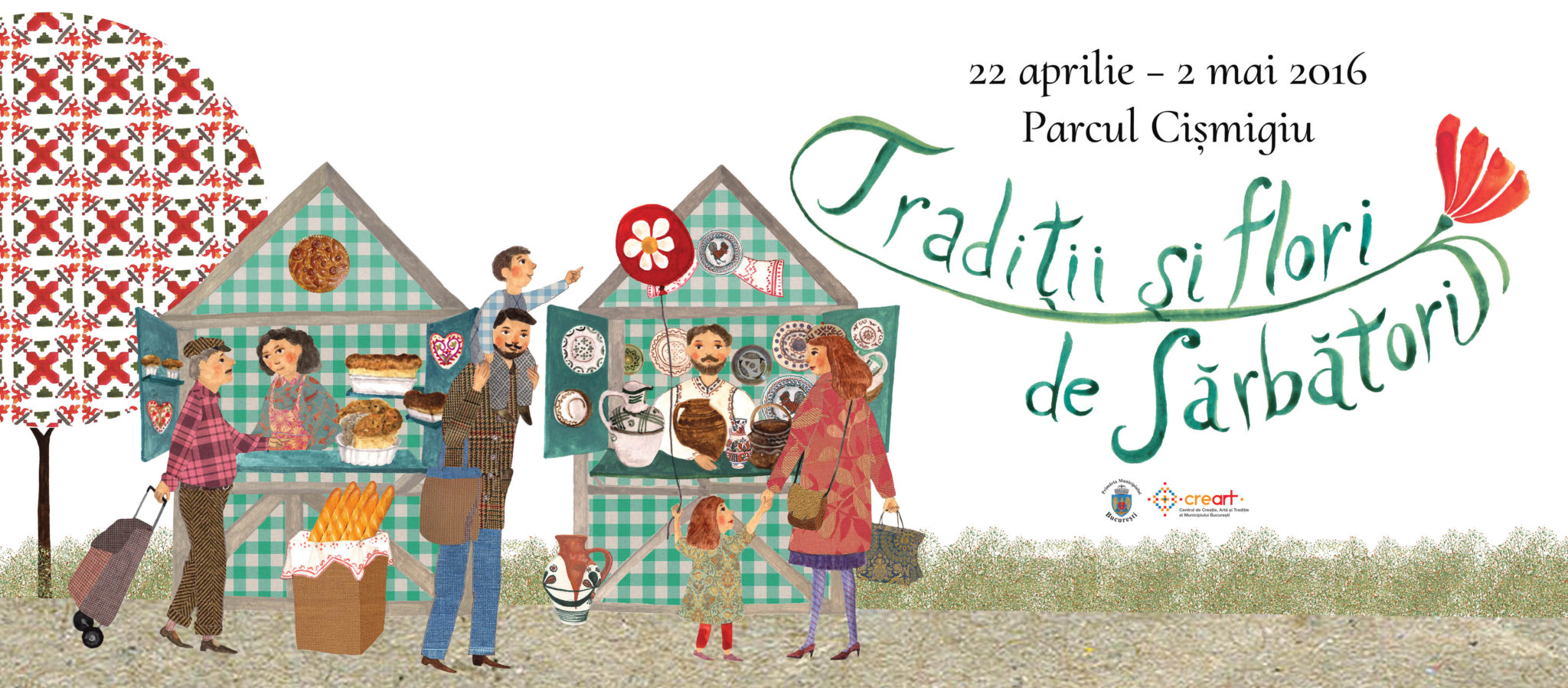 A traditional fair, concerts, interactive workshops for children at the 7th edition of "Traditions and Flowers Festival"
The Municipality of Bucharest and creart – Centre for Creation, Art and Tradition, has been organizing the event called "Traditions and Flowers Festival" since 2009 during Easter Celebrations. The 7th edition will be held this year between 22nd of April and 2nd of May, in the Cismigiu Gardens, Bucharest
Bucharestians are invited to join us in the Cismigiu Gardens where we are going to celebrate a special programme, between 10.00 am and 9 pm, consisting of a traditional Easter Fair, concerts, rabbits and lambs exhibitions, recreational workshops for children and pony rides.
Easter Fair
Easter Fair represents a good opportunity for each of us to taste traditional products, naturally produced in farms and homesteads, to develop all the techniques used by masters, altogether with ornaments and traditional shapes.
All 52 little cottages built on the park alleys will host a various range of traditional Romanian products made by tradesmen and traditional artists belonging to different regions of our country, such as: objects made on wood, ceramics, leather, bone and glass, hand-made jewels and accessories, natural flowers arrangements, icons, painted Easter eggs, traditional fabrics, knitted baskets, popular costumes, tree bark sculpture.
Concerts performed at Foisor (The Gazebo area)
Every celebration should include music,that is why the Gazebo area (Foisor) in the Cismigiu Gardens could not be an exception. Various concerts will be held between 22nd – 27th of April an 2nd of May performed by artistic groups formed by children, choirs, orchestras, brass bands, quartets, traditional musical artists and modern singers.
Maria Radu, Nicoleta Nucă, Distinto, Antonio Fabrizi, Silviu Biriș, Lavinia Goste, Mioara Velicu, Ioan Gyuri Pascu & The Blue Workers, Radio Children's Choir, "Divina Armonie" Choir, Canticum Choir, "Symbol" Choir, "Mundi Colour" Orchestra, "Valahia" National Orchestra, Angely's Brass Band, "Brass Orchestra" Band, Traditional Quartet, "Fiore" Quartet are only a few names included in our artistic programme, prepared for the "Traditions and Flowers Festival".
Recreation workshops for children and pony ridings
Children enjoy the most festive days and holidays, therefore they are encouraged to express themselves through games and playing within recreation workshops, which will be held between 22nd-24th, 29th, 30th and 2nd of May, 11 am-01 pm, 4pm-7 pm in two dedicated areas: the lawn in front of the Victor Eftimiu entrance and the one situated near the Gazebo zone.
During the workhsop entitled "The Magic of spring colours", children will be able to choose a model of face-painting and they could wear it for the whole day, also they will have the possibility to create a cheerful coloured painting from collages within the workshop "Decorative Easter Paintings", while the workshop called "Felt Flowers" creates the perfect background for special felt accessories, beads and coloured tinsel.
Furthermore, the little ones will enjoy pony rides in the Cismigiu Gardens, along a specially arranged space, between 22nd and 24th of April and 29th of April – 2nd of May, 10.00 am-9 pm. They will admire the little rabbits and lambs exhibited there.
The entrance is free, children and adults are welcomed to enjoy 11 days of festive time, an Easter fair, concerts, interactive workshops an many other surprises!
Details on our schedule are available on www.creart.ro and www.facebook.com/TraditiisiFlorideSarbatori.