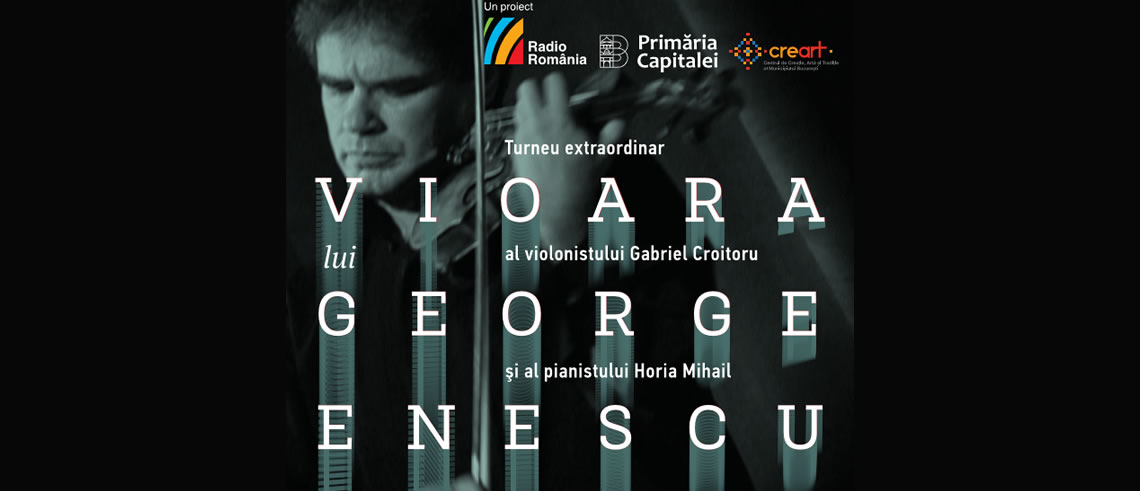 The story of George Enescu's violin at Teatrelli
The Guarneri del Gesu violin story, a historical instrument that George Enescu himself once sang, continues at Teatrelli, in Alexandru Lahovari Square, no. 7, Bucharest on October 24, 2017, from 19.00.
George Enescu's Violin Recital is organized by the City Hall of Bucharest through CREART – The Center for Creation, Art and Tradition of Bucharest Municipality and Radio Romania.
Violin Guarneri del Gesu, called the Cathedral, for his unique sound, which is part of the patrimony of the George Enescu National Museum, is the instrument that Gabriel Croitoru fell in love with:
"I, in turn, have an old Italian violin, which seems to be part of the important violins. I do not know exactly what a craftsman made it. But I was told by a lot of people that it is one of the big ones and I went, very confidently, with my violin at the Enescu Museum to see how it sounds, compared to Guarneri, of course. There everyone delighted … They closed the museum doors and came to assist, for no one had seen the instrument, with very few exceptions. So I got them out. Mine was much more beautiful than this Guarneri violin. I drew two notes on mine and then, when I got Guarneri, I quickly got my hands on it. There was no way back, it was much brighter. Although, after 50 years of singing only rarely, occasionally, the violin was fortunately preserved in very good conditions due to the safes and all preservation systems in the museum. But everyone recognizes that, since he has begun to sound on stage, he regains from one year to another qualities that he certainly had before, "says the violinist.
The two musicians have prepared a program that includes popular songs from the violin and piano literature:
A. Dvořák: Dans slav, op. 72, nr.2
J. Brahms: Scherzo
Granados-Kreisler Dans spaniel
Fr. Kreisler: Polichinelle
F. Mendelssohn: On wings of song
M. Moszkowski: Guitarre
Fr. Kreisler: Syncopation
C. Porumbescu: Balada
Cl. Debussy Clair de lune
Pugnani-Kreisler: Preludiu și Allegro
G. Enescu: Balada
Fr. Kreisler: Allegretto
Fr. Kreisler: Rondino pe o temă de Beethoven
W. Kroll Banjo and Fiddle
Pentru detalii vă invităm să consultaţi site-ul www.vioaraluienescu.ro.