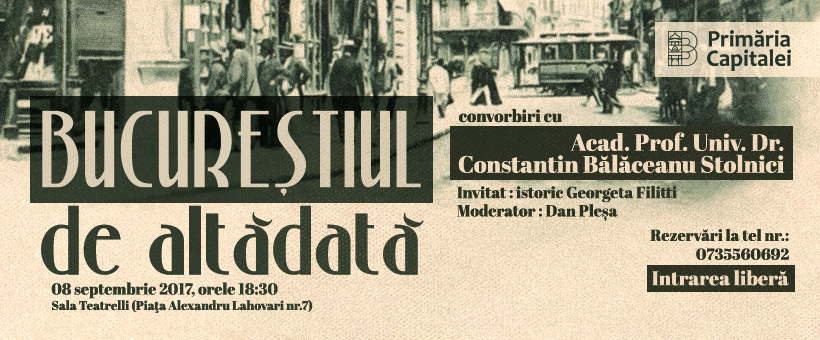 On the occasion of the Bucharest Days, Bucharest City Hall, the Creative, Art and Tradition Center of Bucharest, invites you in September to two sessions of conversations with outstanding personalities of the Romanian cultural life about Bucharest.
The first evening of the special program for the city's celebration proposes a meeting with the acad. Professor Constantin Bălăceanu Stolnici, along with the historian Georgeta Filitti and Dan Pleşa, the moderator of the discussion, to outline some of the beautiful pictures from the interwar period in Bucharest.
To learn more about how it looks and how to live in "Little Paris" in the past, we are expecting you Friday, September 8, 2017 at 6:30 pm, at the Teatrelli Hall, located in Alexandru Lahovari Square, no. 7.
The entrance is free of charge based on a reservation made at Teatrelli Ticket Office in Alexandru Lahovari Square no. 7 or by phone at 0735.560.692.
Media Partners: Blitz TV, Bucharest City App, Zile și Nopți, Best – Event, România Pozitivă, Orașul Meu, Art  7, Calendar Evenimente, PR Wave, Gratuitor, IQool.