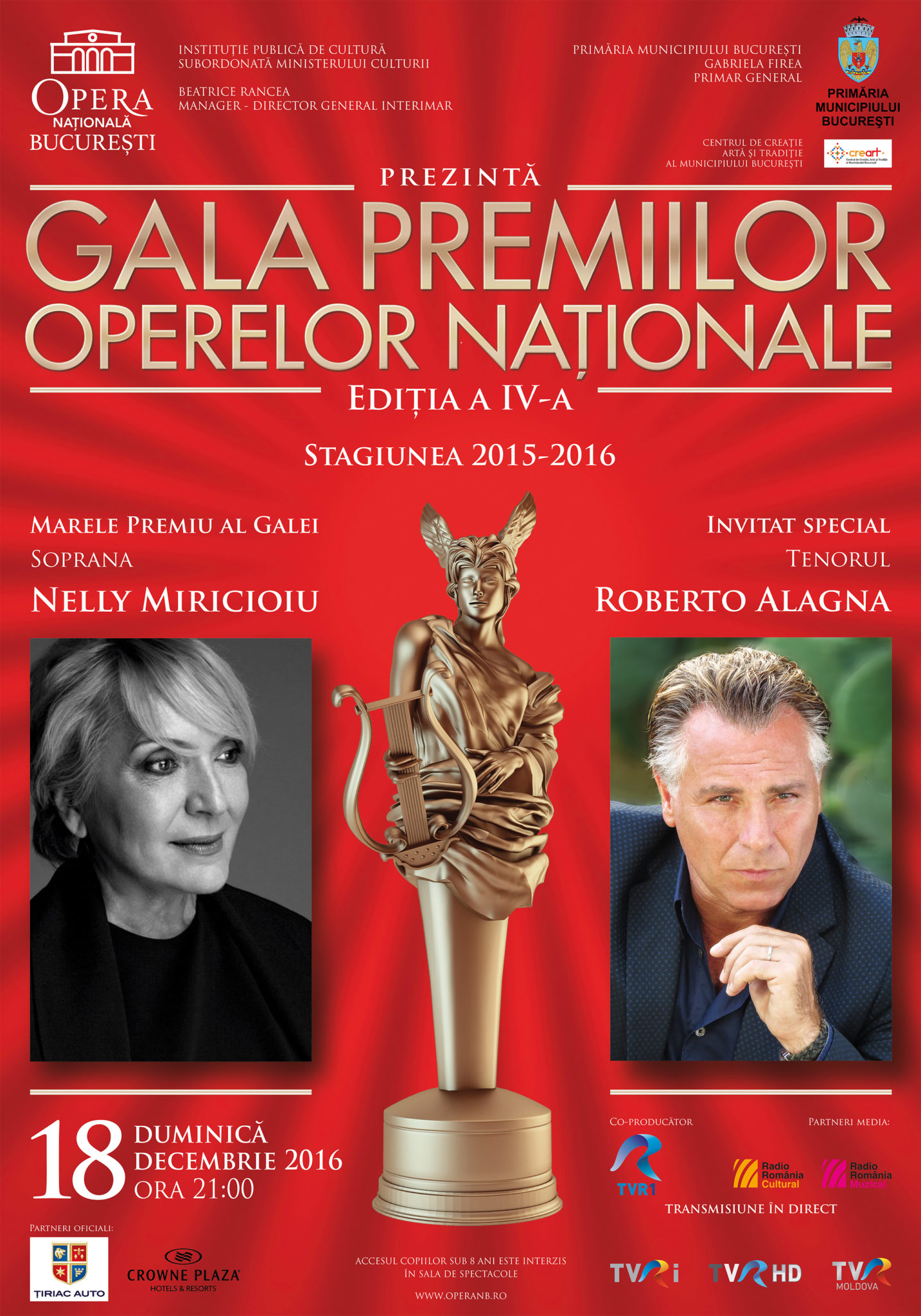 National Opera Gala Bucharest, the fourth edition, will take place Sunday, on December 18, 2016, 9pm. The most important event of the Romanian lyrical stages will be organized for the first time at the National Opera House in Bucharest, in partnership with Bucharest City Hall. On this occasion, the General Mayor, Gabriela Firea, will give the award for the best opera performance.
The special guest of the National Opera Gala is the famous tenor Roberto Alagna, who will sing for the first time on a stage in Romania.
The 2016 Gala Grand Prize will be awarded to the renowned soprano of Romanian origin, Mrs Nelly Miricioiu, given away at the hands of His Royal Highness Prince Radu of Romania. On this occasion, the soprano Nelly Miricioiu will be conferred the title of "Citizen of Honour" of Iassy, presented by the Mayor of Iassy, Mr Michael Chirica.
The soprano Eugenia Moldoveanu will receive the Excellence Awards for her entire career. Composer and conductor Cornel Trăilescu will also receive the Excellence Awards. The Special Jury Award will be handed to the chorus master, Stelian Olariu.
15 awards in competition and 12 excellence awards for lifetime achievement.
The Orchestra and the Ballet Ensemble of the National Opera Bucharest will be conducted by Marcello Mottadelli, artistic coordinator of the National Opera in Bucharest and maestro Tulio Gagliardo Varas, artistic coordinator of Devlet Opera ve Bales İzmir, Turkey.
The event will be broadcast live on TVR 1, TVR International, TVR HD, Radio Romania Cultural and Radio Romania Musical, starting at 21.00.
It will also be broadcast live on the official website www.operanb.ro.
* Tickets will be on sale Tuesday, December 13, 2016, starting at 10.00 at the National Opera's box-office in Bucharest and online (http://tickets.operanb.ro/).
An event organized by the Romanian National Opera, Bucharest, in partnership with Bucharest City Hall and Creart – The Centre for Creation, Art and Tradition, Municipality of Bucharest.
Co-producer: Romanian Society of Television
Media Partner: Radio Romanian Society
Official Partners: Tiriac Auto and Crowne Plaza