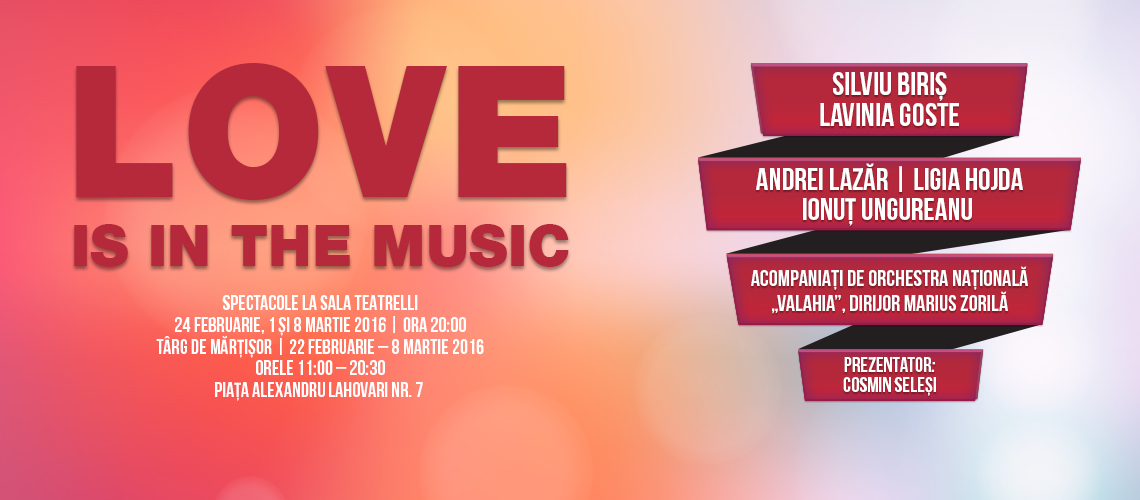 On 24th of February, 1st and 8th of March, the Municipality of Bucharest and creart – The Center for Creation, Art and Tradition organize the event called "LOVE IS IN THE MUSIC", at teatrelli stage (No. 7, Lahovari Square).
The evenings of 24th of February, 1st and 8th of March will host a series of shows, starting with 8 p.m., which include Romanian and international music, reinvented by our invited artists. Cosmin Selesi, a beloved actor and presenter, will entertain us between the musical moments dedicated to our audience.
In order to sum up the festive atmosphere, between 22nd of February and 8th of March 2016, our visitors are welcomed to a Handmade Fair, inside the interior yard of our creart headquarters, decorated with flower arrangements and adornments meant to announce the coming of spring. This fair will be opened between 11 am – 11 pm and it is dedicated to everyone wishing to offer an original gift on the occasion of the traditional Day of Love called Dragobete, 1st Day of March (Martisor) and the International Women's Day. A various range of gifts will include March trinkets, symbolic presents celebrating our traditional Day of Love (Dragobete) or unique gifts for women, such as pendants, necklaces, rings, bracelets, ear rings or hand-made pins from polymeric clay and paper, with the help of the quilling technique. You will not miss floral accessories, wreaths, jewellery decorations and boxes joining each accessory chosen.
Tickets for the show "LOVE IS IN THE MUSIC" can be bought through Eventim network or at our creart box-office, No7, Lahovari Square.
More details on:
https://www.facebook.com/creartpmb/
Media Partners: Radio România București FM, Radio România Muzical, Radio România Cultural, Zile și Nopți, Calendar Evenimente, România Pozitivă, Orașul Meu, BigCityLife.ro, Iqool, Dor de Ducă, PR Wave, 24FUN.