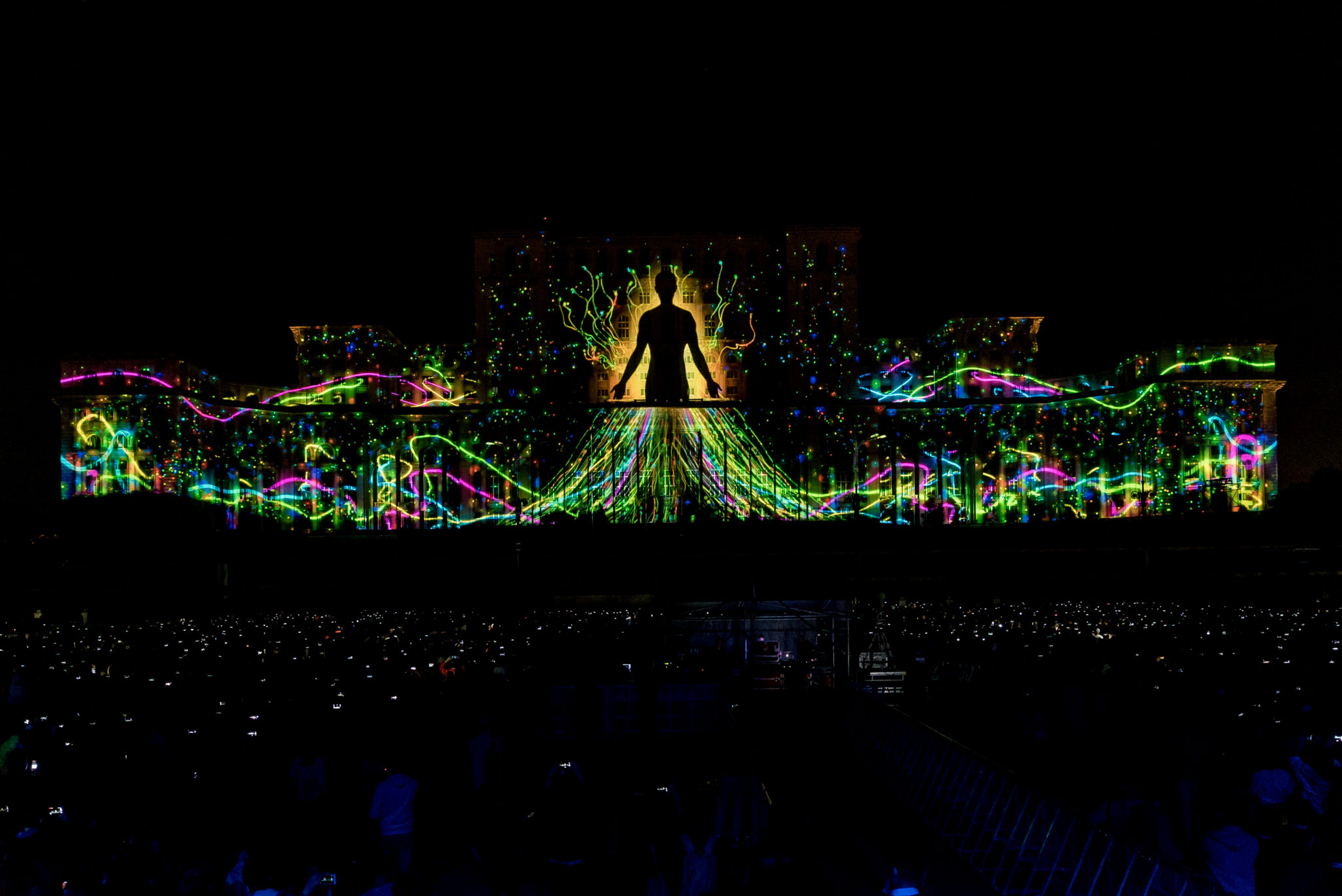 The City Hall of the Capital, through Creart – the Center for Creation, Art and Tradition, organizes for the fourth consecutive year the International Video Mapping contest – iMapp Bucharest, on September 16, 2017, in the Constitution Square, on the occasion of the Bucharest Days!
Finalist teams and a prestigious jury
Six teams of artists have been named finalists following an Open Call released in June this year: MotionLab – Romania, mammasonica – Italy, EPER – Hungary, Gong Zhen – China, Flightgraf – Japan and Ouchhh Studio – Turkey. The artists will present in the final competition, starting at 22:30, dynamic performances that will animate the elements of the House of People for 4 minutes and 30 seconds, according to the theme of the album "Above and Beyond".
Concerts on stage in the Constitution Square
Romanian DJ Paul Damixie, internationally known for remixing the song "Hello" by British singer Adele, will open the event on the evening of September 16, at 17:30. In the sequel to the DJ, at 19:30, Moonlight Breakfast retro-electro band will climb on the stage with a complex show, a fresh mix of Soul, Electro, Beat, Nu-Jazz and Swing, from which they will not missing 3D projections with abstract visual elements and video fragments.
Beginning at 21:00, before the 3D video mapping contest, the famous Pink Martini orchestra, along with the Storm Large soloist, will hold an energetic concert in the Constitution Square! The American instrumental music band is appreciated around the world, conquering the audience since 1997 when it released the album "Sympatique". With over 20 years of experience and a varied repertoire, Pink Martini always delights the audience with their cosmopolitan style and comes close to fans playing songs in various languages, including French, Portuguese, Turkish, Romanian, Arabic or English.
Free entrance

Facebook event: https://goo.gl/Wn5xEe
Facebook page: www.facebook.com/iMappBucharest/
Eveniment organizat de: Primăria Capitalei, prin creart – Centrul de Creație, Artă și Tradiție al Municipiului București
Sponsori: Kaufland, Coca-Cola
Curator: Maxin10sity
Producător tehnic: 360 Revolution
Media Partners: Antena 3, Smart FM, România TV, Blitz TV, InfoMusic, iConcert, Urban, Bucharest City App, Best-Event, Art7, România Pozitivă, Gratuitor, Zile și Nopți, PR Wave, Calendar Evenimente, Orașul Meu, IQool