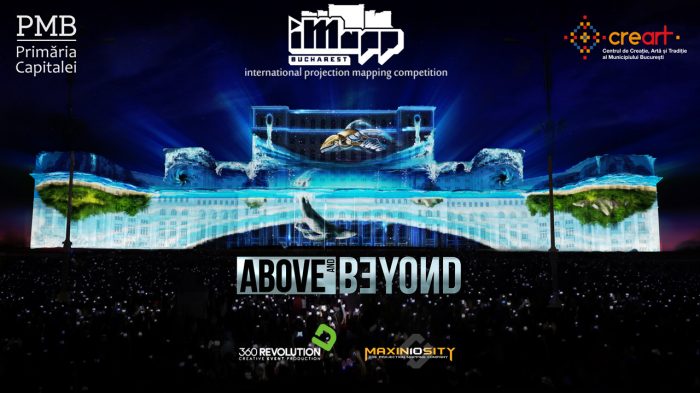 iMapp Bucharest 2017 announces the 2017 edition finalists! This year, the six international teams selected for the competition are: Motionlab (Romania), mammasONica (Italy), EPER (Hungary), Gong Zhen (China), Flightgraf (Japan) and Ouchhh Studio (Turkey).
The selection of the participants for iMapp Bucharest 2017 has been made by a specialized jury, Maxin10sity – the Art Curator of the event, together with the last year's jury, who decided the best animations for entering the competition.
Each team created a 4 minute 30 second long videomapped animations to the theme of "Above and Beyond" adapted to the façade of Palace of Parliament, Bucharest, Romania, using and enhancing the architecture, and accompanied by music. The animations will be projected on 16th September 2017, in front of an international jury and a live audience.
Motionlab (Romania)
MotionLab is a creative studio based in Bucharest, Romania. A group of artists with crazy ideeas dealing with video mapping & advertising. In 2016 they were the first Romanian team to be selected in the competition of the biggest Light Festival in the world – Circle of Light Moscow, Russia. This year they will make the walls talk at Imapp 2017 with a beautiful story that will invite the audience into other dimensions.
website: http://motionlab.ro
FB page: https://www.facebook.com/motionlabromania/
mammasONica (Italy)
mammasONica performs as artistic collective with a trans medial distinction, exploring the boundaries of facade projection and ever-evolving from A/V performances to luminous design, interactive installation and new media theatre. Their performances achieved  international awards and academic recognition, often presented during university's lectures as an exemplary way to handle locations with a challenging identity.
website: mammasonica.org
FB page: https://www.facebook.com/mammasonicacollective/
EPER (Hungary)
EPER is a new media studio with cross-discipline expertise in graphic design, digital, motion graphics. Creates comprehensive visual solutions originate from the combined skills in animation, film, design, illustration, 3D, 2D, and live-action. Guided by intermingling art and technology with an ultimate aim to built values for the next generation and contribute to society.
website: www.eperdigital.com
FB page: https://www.facebook.com/eperdigital/
Gong Zhen (China)
Gong Zhen, a mapping art designer coming from Shanghai, China. The leader of a mapping art design company : SKGMEDIA. In last 5 years, He finished about 20 mapping works independently, included building mapping, car mapping, sculpture mapping, interactive mapping and other more formats. In Sep. 2016, his work 'Times' won the second place in Moscow Light festival (Classic Group). Besides, Gong Zhen is also a mapping teacher and mapping exhibition planner.
Website: www.skgmedia.cn
Flightgraf (Japan)
The labelFLGHTGRAF is based in Tokyo and Hamburg and it is an Audio-Visual Design team.  Beginning in 2013, their work and purpose is to give their audience a throbbing experience through the installation arts by commanding full use of visual, sound, and light effects.
website: www.flightgraf.com
FB page: https://www.facebook.com/FLIGHTGRAF-451173148244798/
Ouchhh Studio (Turkey)
Ouchhh is a creative new media studio with expertise in animation, motion graphics and public art. They integrate art, science, and technology in every work they create. They have offices in Istanbul and Los Angeles, and partnerships in Vienna, Barcelona, and Berlin. They consider each project as a challenge and take a fresh and unique approach to all their work. From Google to CERN to Nike to Cosmopolitan to WIRED, their collaborators transcend all industries and all continents. Their works have received multiple accolades and awards in the international arena. Ouchhh is also the recipient of a number of awards, including FELIS and Crystal Apple, ADC Awards and International Design Awards IDA in Los Angeles
website: http://www.ouchhh.tv
FB page: https://www.facebook.com/Ouchhh.tv/
On the 16th of September 2017 the six participants from Romania, Italy, Hungary, China, Japan and Turkey will be juried by a professional panel of judges, who are all distinguished experts and prominent representatives of visual culture (from the field of arts, visual communications, media, film, etc.).
The iMapp Bucharest 2017 Video Mapping Competition awards two prizes: the Audience award, voted by SMS on the spot – Prize of 5.000 € and the Jury award – Prize of 5.000 €.
__
Producer: Municipality of Bucharest, creart – Center for Creation, Art and Tradition of the Municipality of Bucharest
Art Curator: Maxin10sity Ltd
Technical Provider: 360 Revolution Srl
Follow us for more details:
f/iMappBucharest