Update: Aparitia Bucharest GreenSounds Festival in Jurnalul si Libertatea: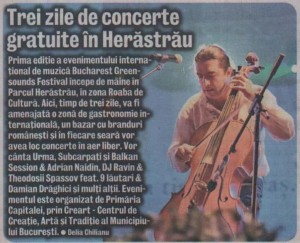 Jaya the Cat, Subcarpați, Alexandrina, Boogie Belgique, URMA, BaBa ZuLa, COMA, Maria Răducanu and many more, reunited at BUCHAREST GreenSounds FESTIVAL, Ist edition
22 – 24 august 2014, Herastrau Park, free entrance


The first edition of the International Music Festival BUCHAREST GreenSounds FESTIVAL brings important artists on the same stage, between 22th and 24th of August, such as Jaya the Cat, Subcarpați, Boogie Belgique, Alexandrina, URMA, DJ Ravin & Theodosii Spassov, COMA, BaBa ZuLa, Maria Răducanua and many, many more within a special event organised by the Municipality of Bucharest in Herastru Park and creart – Centre for Creation, Art and Tradition, Municipality of Bucharest
The Festival will include the Book Cart zone, and the admission is free during the whole period.
This events would like to offer a complex experience to our public by joining together musical performances, recreationala ctivities and a diversified culinary space.
The Festival will join together on the same stage important artists and bands from our country or abroad like: Jaya The Cat, Subcarpați, Alexandrina,Coma,Urma & special friends, DJ Danaga, Romania Groove,Balkan Session & Adrian Naidin,The Moorings,DJ Ravin & Theodosii Spassov feat. 9 musicians & Damian Drăghici, Steaua de mare, Cuantune, Basska, E.M.I.L, Boogie Belgique, SHAZALAKAZOO, BaBa ZuLa and Big Band & Irina Sârbu & Elena Moroșanu & Maria Răducanu.
Event FB – www.fb.com/events/433476896790197/
            BUCHAREST GreenSounds FESTIVAL is part of the events dedicated to the celebration of 555 years since Bucharest was first attested in history. The project implies the celebration of Bucharest through a flagship festival, in accordance with the distinctive features of our city: dynamic, colourful, heterogeneous and last but not least, full of life.
For more details of this event, see Facebook page.
www.fb.com/bucharestgreensoundsfestival.