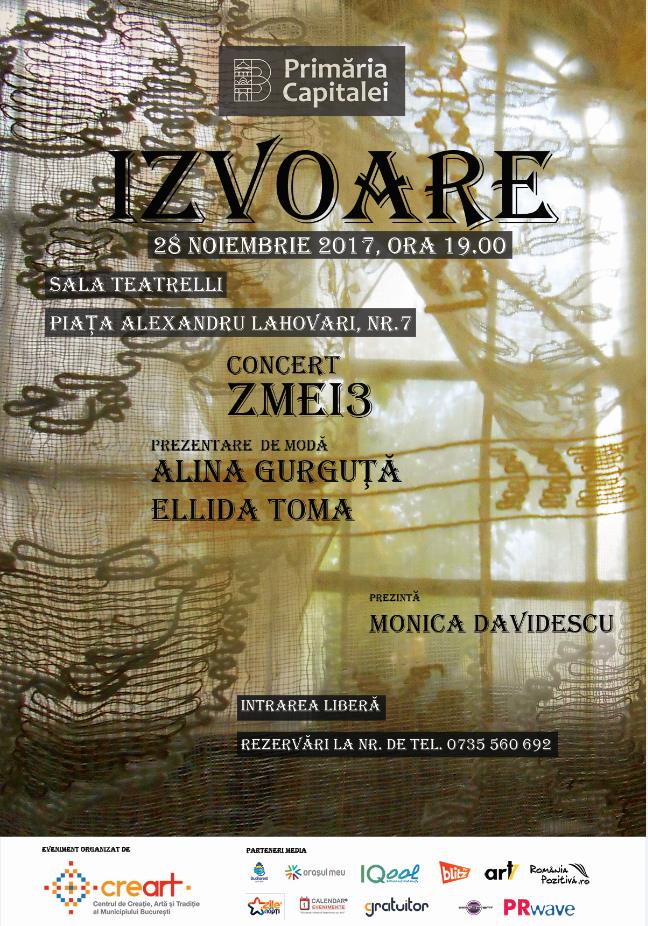 Concert ZMEI3 and fashion show designers Alina Gurguţă and Ellida Toma @ Teatrelli Hall
The City Hall of Bucharest, through the Creart – The Center for Creativity, Art and Tradition of Bucharest, invites you on Tuesday, November 28, 2017, from 19.00, at Teatrelli Hall (7, Alexandru Lahovari Square), to an event dedicated to music and design- fashion dress of folkloric inspiration, but reinterpreted in a contemporary register.
"Izvoare", the event brings a concert of the band "ZMEI3" on the stage of Teatrelli Hall, about which Berlin's Tagesspiegel in Berlin wrote: "When the ZMEI3 climbs up the stage, it's rare to see tears in the audience's eyes, and the Jazz Weekly magazine described their project as a unique blend of Romanian, pop and jazz folklore.
The event will be complemented by a fashion show by designers Alina Gurguţă and Ellida Toma, who through their collection aim to offer a reinterpret of the traditional Romanian port, without losing its essence. Hence the title of the collection – IZVOARE.
The event will be presented by actress Monica Davidescu.
Entry is free and is based on reservation at 0735.560.692.