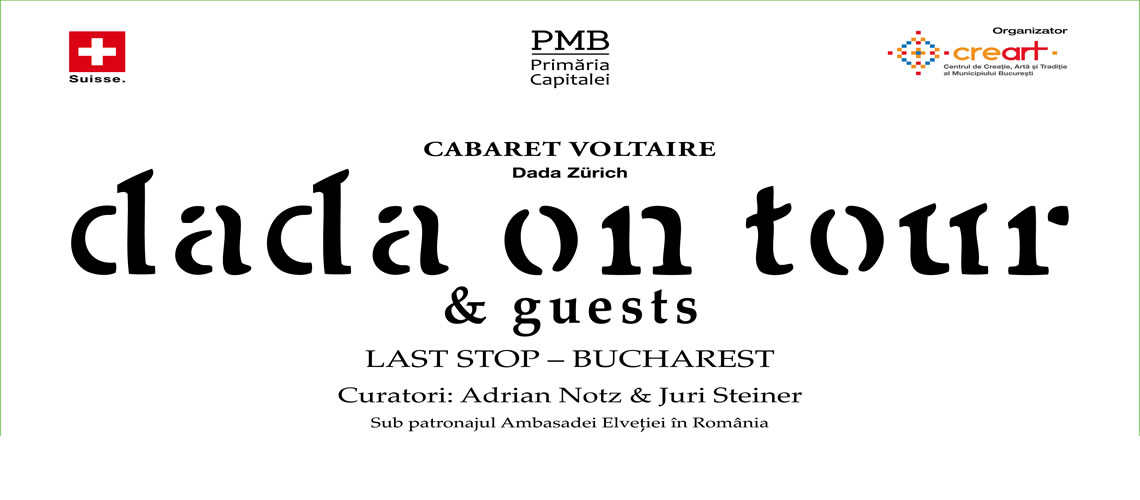 The Cabaret Voltaire Zürich project – the last station in the capital
The City Hall of Bucharest, through the Creart – The Center for Creation, Art and Tradition of Bucharest, organizes, from 25 April to 10 May 2017, from 10:00 to 17:00 at the Printing House Gallery of the Plastic Fund Combinations (Baiculesti Street no. 29), the exhibition event "Dada on Tour & Guests. Last Stop – Bucharest ".
The exhibition is presented in collaboration with the Association "Dada 100 2016 Zürich" and Cabaret Voltaire in Zürich, under the patronage of the Swiss Embassy in Romania, and the curators are Adrian Notz and Juri Steiner. The opening of the exhibition will take place at the Printing House Gallery on April 25, at 18:30.
On April 24, at the Teatrelli Hall on Alexandru Lahovari Square no. 7, starting at 18:30, the exhibition event will be preceded by the roundtable "Dada on Tour", which will take place in the presence of ES Urs Herren – Ambassador of Switzerland in Bucharest, moderated by Ruxandra Balaci – Artistic Founder MNAC Founder -2014), ArtAccess.ro Director. The round table will outline the interesting Romanian and international experiences that marked the Dada Centenary last year. The interveners will be: Prof. univ. Sorin Alexandrescu – CESI Director, Adrian Notz – Cabaret Voltaire Director – Zürich, Conf. Paul Cernat, Octav Avramescu – SemiSilent Director / Full Half.