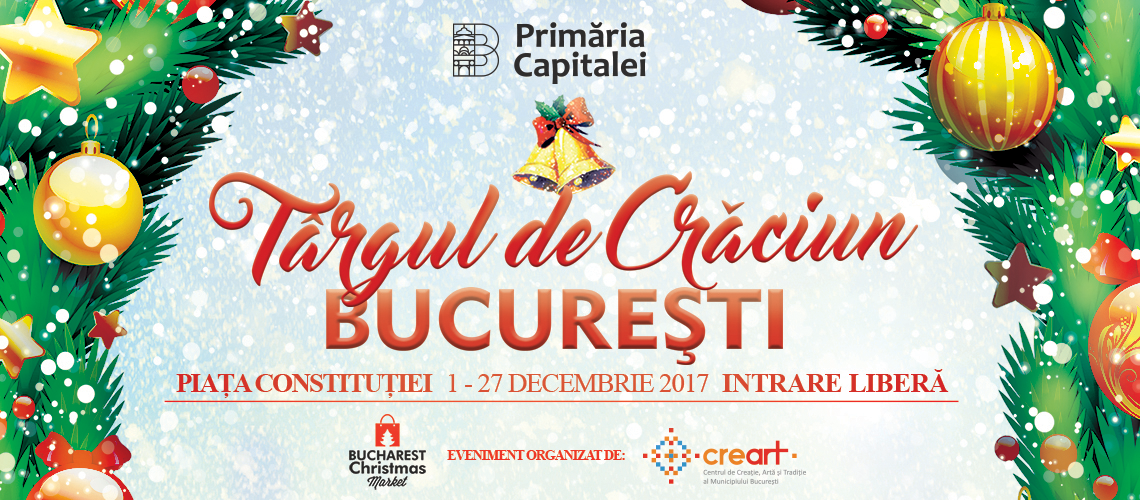 Winter holiday stories begin on December 1st at the Christmas Market in Bucharest! Bucharest City Hall – The Center for Creativity, Art and Tradition of Bucharest organizes the largest Christmas fair in Romania, December 1-27, in the Constitution Square, where the Romanian music, traditions and crafts will animate the city center!
Christmas fair
The Christmas Market Bucharest is the right place for all those who are looking for gifts for their loved ones or traditional Romanian products. Visitors will be welcomed daily from 10:00 to 22:00 with a variety of products: from winter-specific ornaments, toys, accessories, folk costumes, natural care products to products and preparations made after traditional Romanian recipes: homemade cakes, cozonacs, jams, waffles, pies, sausages, pudding, sausages, pickles, boiled wine, cheese, cheeses.
Carousel, ice rink, Santa Claus House
Between 1 and 27 December, between 10:00 and 22:00, the youngsters can enjoy, as every year, free of charge the magical carousel brought to the market for them.
Because last winter the ice rink was one of the attraction points of the fair, and this year we are waiting for the children and parents in the ice rink where the entrance is free.
The Santa Claus House can be visited from 1 December to 24 December on the evening between 11:00 – 13:00 and 17:00 – 22:00, when the children will be able to meet the old man's spirits – Package, Cake, Spiriduşul Poştaş, Toy Store Maker and The Storyteller – who helps him to discover the wishes of the little ones.
Santa Claus will arrive at the Christmas Market in Bucharest on December 16th and will wait for the children in his house in the fair between 11:00 – 13:00 and 17:00 – 22:00 until 24 December, the last entry into The house is at 21:30.
THE COMPLETE PROGRAM of the event in Romanian:
THE COMPLETE PROGRAM of the event in English:https://goo.gl/jMn27m
Humanitarian Campaign
"Give, be better! And you can be Santa Claus! ", This is the message for all those who want to help children in difficulty. The humanitarian campaign is organized annually to encourage visitors to donate books and toys, calling for solidarity and social involvement. The run is from 1 to 20 December, and the donation point is at the entrance to the Santa Claus House.
The Christmas Market Bucharest is a place appreciated by both Bucharest and Romanian from all over the country, as well as by tourists, being part of the international network of the most important Christmas fairs in Europe, entitled "Christmas Markets".
Access to all activities in the event is free of charge.
__
Partners: National Airport of Bucharest, Apa Nova
Main media partner: Magic FM