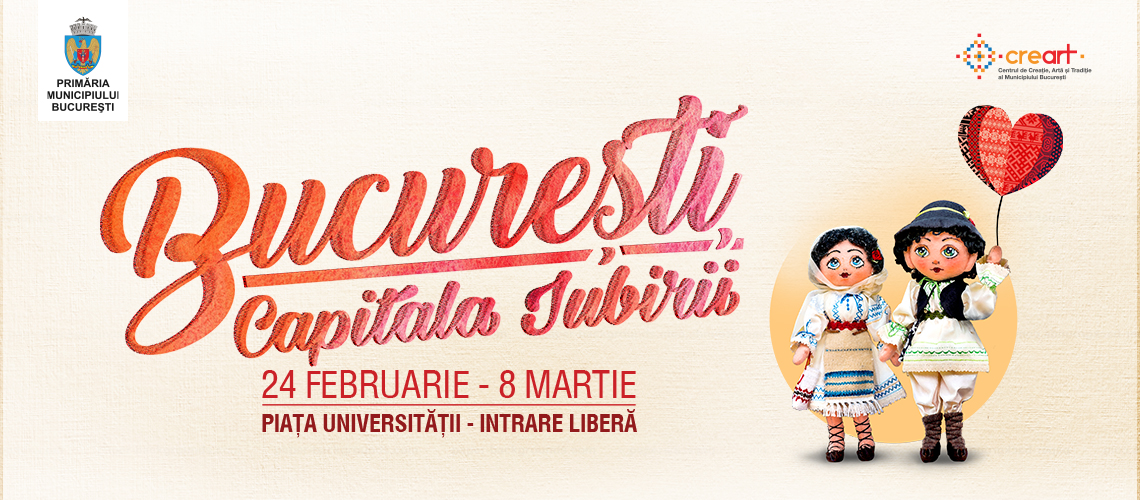 "Bucharest, Capital of Love", at its First Edition!
Gabriela Firea, General Mayor: I invite all the Bucharestians and all the tourists who are now visiting the Capital of Romania to attend the first edition of the event called "Bucharest, Capital of Love", organised at University Square!
At the initiative of our General Mayor, Bucharest will enjoy this special premiere, celebrating the month of love through an exceptional event!
Bucharest City Hall, in partnership with creart – The Centre for Creation, Art and Tradition will organise the Spring Trinket Fair, on the statues esplanade at University Square, from February 24 to March 8, 2017. A series of concerts and shows for all tastes will be presented to our audience.
Bucharest General Mayor, Gabriela Firea: "The Trinket Fair celebrates spring! It is the season of rebirth, renewal and mostly, a season of love, with two old traditions, Dragobete and March Trinket inherited from our ancestors! We are waiting for you with a lot of surprises, making you enjoy beauty and traditions, no matter if you are from Bucharest or just a tourist passing by, please come and visit our Fair organised by the City Hall at University Square, where everyone becomes a "full rights citizen" of the Capital of Love!"
The statues esplanade will hold the Spring Trinket Fair which will be opened daily, for 13 days, while visitors could choose presents and traditional March gifts from about 50 cottages: trinkets, jewels, flower arrangements, decorations, felicity cards, hand-made products, cakes, gingerbread, candies, home-made sweets and so on.
Romanian hits that made history
On 24th, 25th and 26th of February, we are celebrating love in an authentic Romanian style during three evenings full of concerts!
The festivity programme begins at 5.30 pm with songs from the traditional Romanian repertoire, performed by renowned artists from Romania accompanied by "Valachia" National Orchestra, led by chief conductor, Marius Zorila.
Popular artists will perform  Romanian traditional and modern songs on stage: Silviu Biriș, Lavinia Goste, Luminița Anghel, Oana Sîrbu, Aurelian Temișan, Ovidiu Komornyik, Nico, Marcel Pavel, Corina Chiriac, Monica Anghel, Mirabela Dauer, Gabriel Cotabiță, Bosquito, Andreea Bănică, Paula Seling, Elena Gheorghe, Corina, Andrei Lazăr, Vlad Miriță, Mircea Baniciu, Ducu Bertzi, Ionuț Ungureanu, presenting us a special artistic programme where we can listen to the most appreciated Romanian hits which made history during time.
Eurovision Song Contest at University Square
On 3rd and 4th of March, starting at 6pm, we will celebrate two alternative rock and underground evenings with famous local bands like: OCS, Moonlight Breakfast, Jurjak, The Mono Jacks, The Kryptonite Sparks, Sophisticated Lemons, Luna Amară, Helen, Toulouse Lautrec, Lucia & Muse Quartet, Otherside and Camioane în Mulțime.
Furthermore, on March 5 our visitors will be able to watch Eurovision Song Contest, Grand Final Romania 2017 during the "Bucharest, Capital of Love" event. The Eurovision Final will be broadcasted live at University Square, starting at 8.30 pm.
Event: www.facebook.com/events/1053919711378876
Parteneri media: România TV, Magic FM, Art7, PR Wave, Gratuitor, România Pozitivă, Festivaluri Românești, Best – Event, Zile și Nopți, Știri pe Surse, IQool, Dor de ducă. Calendar Evenimente, Orașul Meu, Blitz TV, Bucharest City App