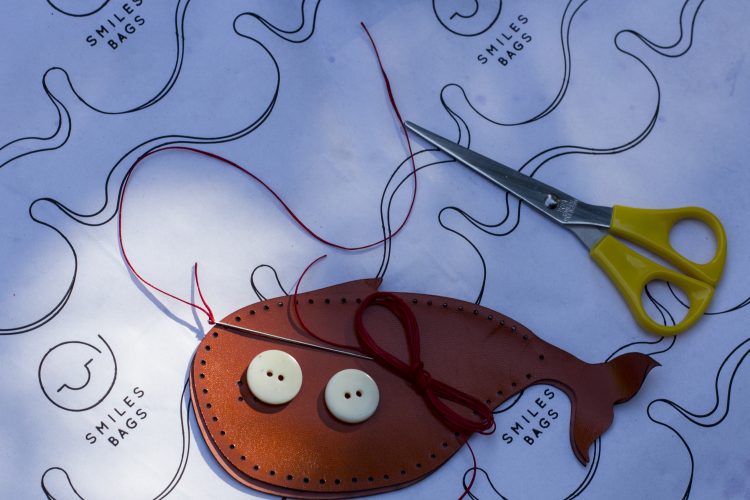 1st of June, The International Day of Children, brought us a new creation  and craftsmanship workshop organized by Smiles Bags, in partnership with creart, The Centre for Creation, Art and Tradition, Municipality of Bucharest, at creart Villa, French Village in Bucharest.
During the workshop entitled "Toy with A Story – Imagine and Create" we invited children aged 5 to 10 years, together with their parents. Children had the opportunity to create a leather toy which they could take home at the end of the event. The goal of this workshop was to make children imagine and create by themselves artistic objects in cooperation with their parents, in a relaxed, fairy-like atmosphere…
One upon a time, there was a little baby whale named Cico. He lived in Brasil, near the coral reef beach. This coral reef beach was not quite ordinary as baby whales from all over the ocean used to gather there to play football. You might think that whales couldn't play football?
As the beginning of the European Championship 2016 is in June, Cico and his friend, Maco, have decided to create their own football team and take part in the tournament. But where could you find so many whales? Therefore, they asked for help from kids in the audience!"
Children were invited to glue up, sew and cut in order to create a leather toy in shape of a whale, thereby experiencing a new craft. The used materials were made up of goat leather, waxed thread and an edgeless needle, typical to leather manufacturing process, and everyone could get an idea of how this art should be done. The little ones were always in charge of their art as they wanted to make everything with their own little gifted hands. The workshop ended with the completion of birth certificates for every baby whale who then joined Cico's football team.