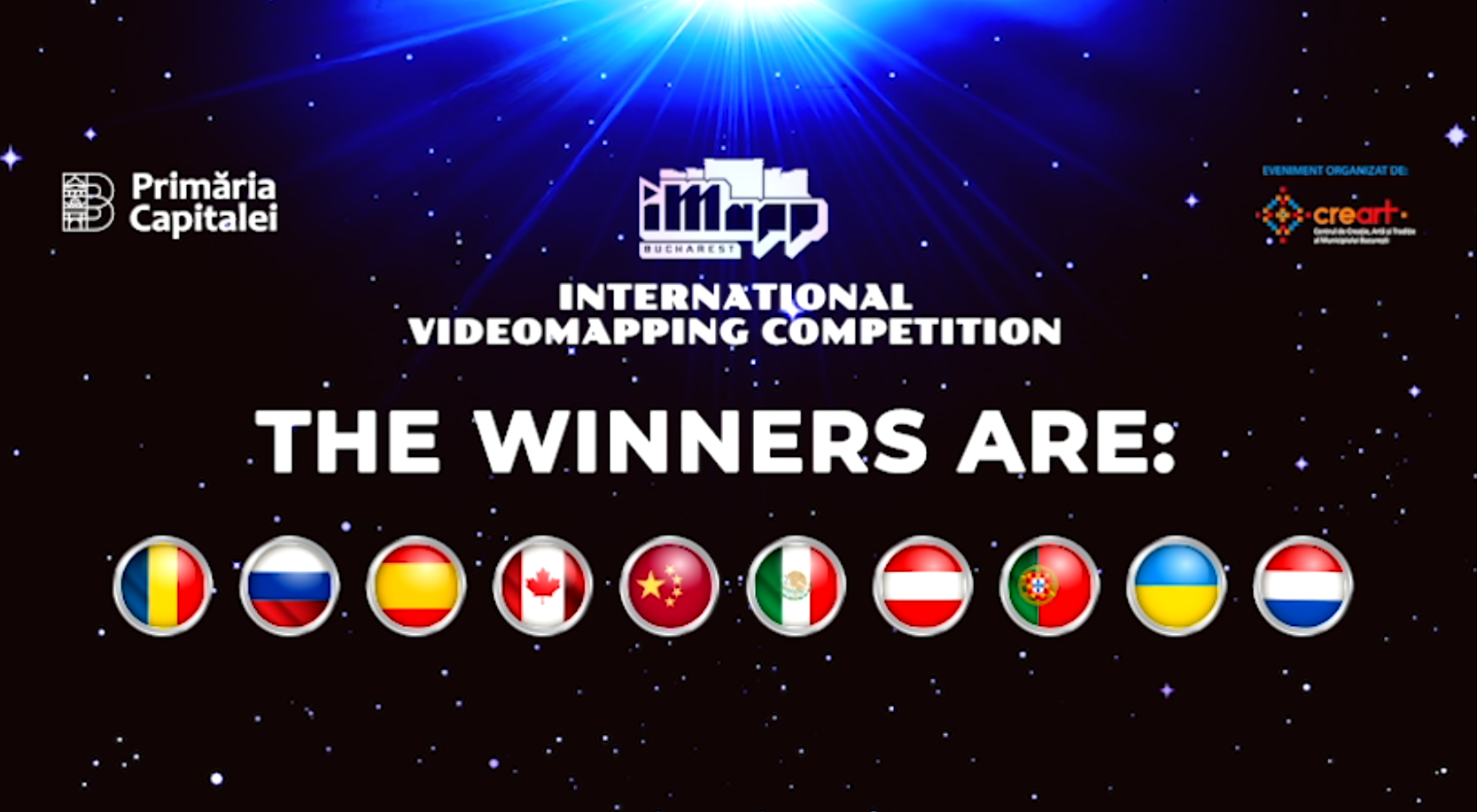 Bucharest City Hall, through creart – Centre for Creation, Art and Tradition of Bucharest Municipality, organizes on September 22, 2018 the fifth edition of iMapp Bucharest – one of the biggest 3D video-mapping shows worldwide, which brings together design, contemporary art and a show on the 23.000 square metres façade of the Parliament Palace. Throughout the four past editions, the festival gathered over 240.000 visitors and became a reference point for the international audio-visual industry.
iMapp Bucharest features in Bucharest for the fifth year consecutively the best multimedia artists in the world, who will present their works on the façade of the Parliament Palace according to the theme chosen for this edition, which is dedicated to the Centenary of the Great Union: Blue. Yellow. Red. A Century of Modern Romania.
For the first time in the history of the festival, 10 international teams have been chosen to participate in the contest on September 22, 2018 in response to an Open Call launched in May, 2018. The teams have been challenged to create works using the colours of the Romanian national flag, events and important figures belonging to the Romanian history, with a focus on an artistic perspective rather than on a documentary one. Teams from Russia, Germany, Spain, France, Canada, Belgium, Ukraine, Hungary, China, Mexico, Thailand, Columbia, Bulgaria, Italy, Austria, England, Portugal, Poland, and India registered for the competition.
The 10 finalist teams to present their works at iMapp Bucharest 2018 are: Sila Sveta from Russia, Go2 Productions from Canada, LosRomeras and OTUCINEMA from Spain, NullPixel from Mexico, SKG Media from China, United Motion Labs from Austria, Mindscape Studio from Romania, OCUBO from Portugal, ArtZebs from Ukraine, and Vision Impossible from Netherlands.
The members of the Jury selecting the 10 works were: Jean François Zurawik – Director of Events in the city of Lyon and the overall coordinator of the Festival of Lights, Dávid Ráday – Creative Director for Sziget Festival, Hendrik Wendler – founder of the video-mapping software "Suite MXWendler" and of artistic festival platform "Genius Loci Weimar", Tais Poda – partner and Creative Director in "Front Picures", Diana Civle – Project director of 3rd "European choir games & Grand Prix of Nations" Riga 2017.
On September 22, 2018, the 10 works will be evaluated by a specialized Jury composed of refined experts and important members of the international visual culture, from the visual arts field, communication, mass media, or film.
The Jury of the final competition iMapp Bucharest 2018 is formed by: Xavi Bové – artist, curator, teacher, and the artistic director of the FIMG, International Mapping Festival of Girona 2016, Colombine Beyer – pioneer of video mapping shows in the Middle East and producer of a large scale of events from performances to exhibitions, as well as the Sharjah Light Festival, Kate Harvey – Associate Producer at Artichoke from UK, Ronald Ramakers – freelance theatre director in the Netherlands and Germany for 10 years, founder of the audio-visual company "Phanta Vision" and director of the international light art festival GLOW Eindhoven, and Gaston Zahr – co-founder of OGE Group, Artistic Director of Jerusalem Festival of Lights, Haifa Lights Competition, and the Independence Day Light Parade in Tel Aviv.
Like every year, iMapp Bucharest will be very interactive and the visitors will have the possibility to choose their favourite through SMS at normal costs, using a number provided by the organisers on the night of the event. Hence, the team that will gather the most votes through SMS, will be designated the winner of the Public Choice Award 2018. Moreover, one of the voters from this year's edition has the chance to win a City Break!
Before the 3D video-mapping contest, local and international artists will line-up on the scene of the Constitution Square for concerts within the official opening of the event.
More details on www.facebook.com/iMappBucharest and www.imapp.ro
About the finalists:
SILA SVETA, Russia
Sila Sveta, which translates as 'Power of Light', is an interactive media, turnkey production and conceptual design company based in Moscow and Los Angeles. Committed to transcend the existing possibilities of digital media Sila Sveta aims to create immersive experiences that 'bring magic into the world'. The studio is engaged in the development and implementation of creative concepts, interactive installations, event and art projects, production of multimedia content and bespoke software development. Sila Sveta is a provider of professional technical solutions related to projection systems, lighting equipment and immersive visualization. Their portfolio includes immersive experiences, virtual reality shows, 3D projection mapping on landmark buildings, stage design for concerts and music festivals including Coachella, and grand museum installations, such as 'Mission Mars' for Space Centre Houston. They use their high-end technologies to turn dance performances into the dreamiest spectacles ('America's Got Talent' in 2016 or award-winning 'Levitation' piece). The studio also operates in a number of other directions, constantly elaborating new ways of using light, and collaborates with some of the world's biggest brands, including Audi, BMW, Panasonic, Samsung, Lamborghini.
Website: www.silasveta.com
Facebook: www.facebook.com/SilaSveta
Instagram: www.instagram.com/silasveta
NullPixel, Mexico
Is a laboratory for experimentation and artistic production based in Salamanca, Guanajuato, Mexico, characterized by an interdisciplinary approach dedicated to experimenting with art, science and new technologies to explore the possibilities of new media in contemporary artistic creation, developing research and production projects around digital art, electronic art and virtual reality.
Website: www.nullpixel.com.mx
Facebook: www.facebook.com/NullPixelMultimedia
Instagram: www.instagram.com/nullpixel_oficial
Go2 Productions, Canada
Based in Vancouver, BC, with representation on both US coasts, Go2 Productions is a highly skilled team of multi-disciplined professionals. From 3D projection mapping to immersive environments, video and experiential projects, Go2 is focused on creatively using technology to design unforgettable experiences. Expertly weaving together art, soundscape and digital mastery, the award-winning team transforms physical spaces into magical events that thrill and inspire.
Website: www.go2productions.com
Facebook: www.facebook.com/Go2ProductionsInc
Instagram: www.instagram.com/go2productions
SKG Media, China
SKGMEDIA (Shanghai Skgmedia Film Culture Co.,Ltd.) is created by Gong Zhen and Bao Ruoyun, registered in Shanghai & Hong Kong. We build a very young, creative, artistic design studio which focus on different formats of new media art, especially 3d video mapping and interactive mapping. We have won three-time awards in international mapping competitions, held six-time mapping classes, one-time mapping exhibition show, also finished more than 30 commercial mapping works around the world. We love mapping.
Web: www.skgmedia.cn
Instagram: www.instagram.com/skgmedia
Los Romeras / OTUCINEMA, Spain
Romera Diseño e Infografia, since 1998, offering quality contents with a wide range of uses: corporate events, TV, museums, award ceremonies and, of course, mapping shows. Our team can work on technical conception, visual concepts, storylines, 2D and 3D animation, postproduction, etc… on different projects all at the same time. And also with the skills of many different collaborators to generate adhoc music and sound fx for every project. We create experiences!
OTUCINEMA was founded in Madrid in 2011 to develop and produce interactive audiovisual experiences while telling stories with a narrative character, generating sensations as well as emotions, and seeking to strengthen and humanize our clients' message. Since our inception we have always opted for direct contact with the audiovisual community, maintaining strong links with the base sectors, being continuously and actively involved in the development and propagation of audiovisual culture.
Website:  www.romera-infografia.com / www.otucinema.com
Facebook: www.facebook.com/losromeras / www.facebook.com/Otucinema
Instagram: www.instagram.com/losromeras / www.instagram.com/otucinema
Vision Impossible, Netherlands
Rene Te Riele and Andrzej Krawczyk are motion designers working at Vision Impossible. An Amsterdam based motion graphics studio specialized in making video shows for events. We focus on conceptual strong ideas that are visually appealing.
Website:   www.vision-impossible.nl
Facebook: www.facebook.com/visionimpossible
Instagram: www.instagram.com/vision.impossible
ArtZebs, Ukraine
ArtZebs Group work in contemporary art with digital technologies for 10 years and now team consists media-artists: Nastya Loyko, Vladimir Gulich, VJ Yarkus, Madjah's. 5 years ago we started working with videomapping. Our portfolio consists of more than a hundred events and exhebitions. We connect painting, light, music, sculpture, 3d animation, installation, feelings and conditions…
Website: www.artzebs.com.ua
Mindscape Studio, Romania
Mindscape Studio is a multimedia and creative technology studio specialized in video mapping, event design and interactive installations. We cover the entire spectrum of services: from consulting to conception, planning and realization of the project. Our works have received awards at international festivals and events: 1st Place at Spotlight Festival 2018, Best Experimental Mapping and Best VJ Award at Visual Artist Awards 2018, Public Choice Award at iMapp 2015.
Website: www.mindscapestudio.ro
Facebook: www.fb.com/mindscapestudio.ro
Instagram: www.instagram.com/mindscapestudio
OCUBO, Portugal
OCUBO is a creative and highly skilled international studio that conceives artistic and corporate events using light and technology. We have a wide experience and know how in immersive video mapping experiences, producing effective and remarkable brand activation projects and acclaimed large scale cultural events worldwide.
Our artistic installations and shows contributed to some of the largest International Light Festivals, UNESCO World Heritage sites, monuments and other public places, including major cities like London, Sydney, Paris, Lisbon, Singapore, New Orleans, Amsterdam, New Zealand, Sharjah, Aichi, Melbourne, Lyon, among others. With a constant focus on communicating with the audience, we turn the spectators into active participants introducing interactive and participative art into public space.
Our expertise in the creation and production of Light Festivals and Route Events, dazzle the public with light, colours, movement, interactivity and cutting edge technology. OCUBO is the founder and producer of LUMINA Light Festival in Portugal, transforming Cascais into a world of fantasy and a journey of emotions and sensations through dynamic multimedia installations, video mapping, light installations and light performances for an audience of +400.000 people.
From concept, to exhibition, our turn key events are created and produced 100% in house, by our talented artists in the creative and production field. Combining quality of execution, emotion and creativity, OCUBO endeavours to deliver the best shows adapted to each particular context. Our creativity and on time reliable delivery is the reason our clients and partners value and trust our work.
Website:  www.ocubo.com
Facebook: www.facebook.com/OCUBO.studio
Instagram: www.instagram.com/OCUBO
United Motion Labs
United Motion Labs is an award winning cross-media-studio based in Vienna, which creates audiovisual installations, bringing life to stages or architecture and develop shows and performances with massive impact. The professional, interdisciplinary team unites competences in the field of media art & design, space & stage design, performance & technology. Creating high valued and unique excitements is their mission. Smart storytelling is their foundation. Generating stunning sensual impressions is their passion. If your eyes become big, your mouth remains open, your ears grow and your skin gets goose pimples, then you are – most likely – experiencing artwork by United Motion Labs.
Website: www.unitedmotionlabs.com
Facebook: www.facebook.com/UnitedMotionLabs
Instagram: www.instagram.com/united.motion.labs